FSPS is a member of District 27 of the United States Power Squadrons® (USPS), a non-profit, educational organization dedicated to making boating safer and more enjoyable for all by teaching classes in seamanship, navigation and related subjects. Below are examples of what we do:
CLASSES: 
PUBLIC BOATING COURSE
FSPS conducts America's Boating Course (ABC), covering required topics that all boaters must know:
Rules of the road
Types of boats
Required safety equipment
Navigation aids
Lights and sounds
Anchoring
Communications afloat
Adverse conditions
Water sports safety
Trailering
Personal water craft safety
Knots and lines.
This course is approved by the National Association of State Boating Law Administrators (NASBLA), is recognized by the United States Coast Guard, and is accepted by North Carolina and other states as meeting their requirements for getting a safety certificate, required in most states for operation of a water craft.
Anyone born after January 1, 1988 must have successfully completed a safe boating
course to operate a boat on NC waters if the vessel is propelled by a motor of 10 HP or greater.
G.S. 75A-16.2
Upcoming Classes:
No Classes currently scheduled.
***************************************************************************
 
FREE Vessel Safety Checks
FSPS provides FREE vessel safety checks. USPS is an active partner with the United States Coast Guard and United States Coast Guard Auxiliary in a national program to perform vessel safety checks. If your vessel is stopped and boarded by the US Coast Guard, can your vessel pass a safety inspection?
Get a free Boat Safety Inspection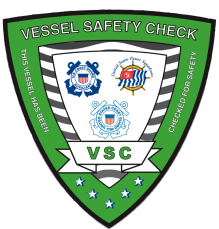 Cooperative Charting Program
FSPS and USPS members participate in Cooperative Charting Program (COOP) activities that help the National Ocean Service (NOS) and National Oceanic and Atmospheric Administration (NOAA) keep nautical charts accurate through a COOP of reviewing charts and reporting errors seen on the waterway— a service that saves taxpayers millions of dollars each year. USPS has been informed that the COOP Charting Program is "one of the most effective user-participation program in all the Federal services."  Learn more
Liaison
FSPS maintain liaison with the United States Coast Guard, United States Coast Guard Auxiliary, North Carolina Department of Natural Resources and other organizations to cooperate for the boating safety benefit of the public.
News:  Read about new program Dan Boater at  Membership and Benefits page
 – Vessel operators born on or after January 1, 1988 must have successfully completed a Boating Safety Education course to operate a vessel with a motor of 10 horsepower or greater on public waters in North Carolina.  Boating Safety Education courses are offered at no charge by the N.C. Wildlife Resources Commission.  The U.S. Coast Guard Auxiliary, the U.S. Power Squadron and Internet providers also offer approved courses that can include a fee. It is important to note the course must be approved by the National Association of State Boating Law Administrators to be accepted.
Meetings:

A Look Ahead:
November, 2022—TBD—
December, 2022-Christmas party TBD
The LOG, the official newsletter of the Fayetteville Sail and Power Squadron: The Log November 2022
Note from the Commander:
. . 
The Bridge
Commander: Rosa Whitmore—gingerspal@aol.com
Executive Officer: Bob Brandenburg—RWBrand@aol.com
Admin Officer: Lee Newcomb—leethesailor769@gmail.com
Education: Rosa Whitmore—gingerspal@aol.com
Secretary: Cliff Parker—snuffles96@yahoo.com
Treasurer: Ted Faber—tedfaber46@yahoo.com
Membership/Operations: Rosa Whitmore—gingerspal@aol.com
Members at Large: Henry Player and Linda Parker
Rules Chair: ________________
Chaplain: Henry Player
Newsletter: Rosa Whitmore
Webpage: Reid Gantt (www.fayettevillesps.wordpress.com)
Facebook: Ted Faber (fb.com/fayettevillepowersquadron)
VSC: Reid Gantt, Chair
Auditor: Buddy Wilkins
Safety Officer: Ted Faber
Merit Marks: Rosa Whitmore
Operations Manual: _______________
Coop Chart Chair: Reid Gantt
Calling Committee/Monthly Meeting Notification: Linda Parker & Henry Player
Event Pictures: Henry Player
Flag Lieutenant: ________________
News of Interest to Boaters:
Navigational Charts Update: Submitted by Reid Gantt
The National oceanic and Atmospheric Administration (NOAA) issued a news
release
<https://www.noaa.gov/media-release/noaa-begins-transition-exclusively-toelectronic-navigation-charts&gt;
stating that it will begin to implement its sunset plan for paper nautical charts this
month, starting with the current paper chart 18665 of Lake Tahoe. After August,
NOAA's electronic navigational chart will be the only NOAA nautical chart of
the area. (2/25/21)
BETTER BUY any paper charts you wish to own. Electronics can be great
but can also fail. Although many have backup electronic equipment available to them on their boats, a secondary plan should always be available too.
2019-2020 Planning Calendar Squadron Calendar
USPS Float Plan Template – Link to USPS Float Plan
SailAngle  The Ultimate Boating Community
Boat Live 365 Boat Live 365 is a movement to empower recreational boating advocates to create a safe boating culture 365 days a year.
 Having fun on the water
For Boaters, By Boaters
Privacy | Trademarks | Disclaimer
Webmaster:  Reid Gantt